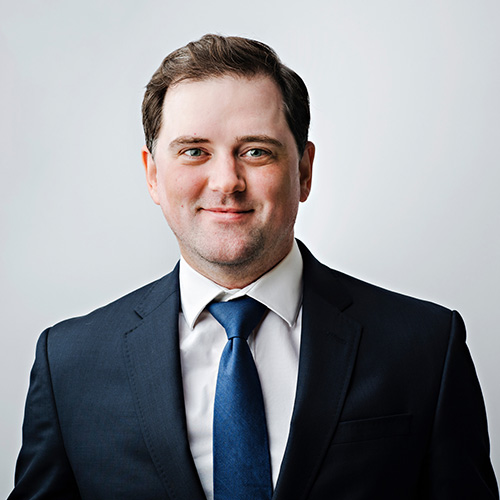 Once upon a time, under intense studio lights, Ryland worked as a sports journalist for a national television network which was less glamorous than it sounds – requiring lots of coffee, late nights and tight deadlines.
Fast forward more than a decade later, Ryland is now an experienced litigator employing his gumshoe journalistic instincts to dive deep into cases whether they involve "Right to Sue" applications under the Workplace Safety and Insurance Act or fraudulent claims arising from accident benefits claims.
Ryland relishes the opportunity to argue novel legal issues and is eager to "get to the bottom of every case" like a film noir detective, but way less cool and with way more paperwork. Ryland is always open for business; there is no case too big and no claim too strange that he won't take on. His dogged determination coupled with his analytical mind ensure accurate and cost-effective results for his clients.
When he is not envisioning himself as a hard-boiled detective from a Raymond Chandler novel, Ryland enjoys watching 60 Minutes, cheering on Crystal Palace F.C. and spending time with his wife and daughter. He also has a passion for travel and has visited many countries including Iceland, South Africa and Japan.
Primary Practice Areas
Tort
Accident Benefits
WSIAT
Priority Disputes
Loss Transfer
Notable Matters
Watson v Echelon General Insurance Company, 2021 CanLII 121075 (ON LAT)
Wright v Northbridge General Insurance Company, 2020 CanLII 98749 (ON LAT)
A.M.v Wawanesa Mutual, 2020 CanLII 45490 (ON LAT)
C.X. v. Belair Direct, 2020 CanLII 30417 (ON LAT)
P.S. v. Wawanesa Mutual Insurance Company, 2020 CanLII 87934 (ON LAT)
D. G. v Co-operators General Insurance Company, 2020 CanLII 61461 (ON LAT)
J.S. v Cooperators General Insurance, 2019 CanLII 130616 (ON LAT)
Toronto Standard Condominium Corporation No. 2058 v. Cresford Developments Inc., 2019 ONSC 801 (CanLII)
Thought Leadership
Publications
Does A Wrong Make A Right? (article)
On the Clock Even When You're Not (article)
"Executive Protection: Now 100% Effective Against Workers" – Are Executive Officers protected from civil liability under the WSIA regardless of optional coverage? (article)
Professional Memberships
Member, Law Society of Ontario

 

Advocates' Society
Canadian Defence Lawyers
Bar Admissions & Education
Ontario Bar, 2013
University of Windsor (LL.B)
University of Detroit Mercy (JD)