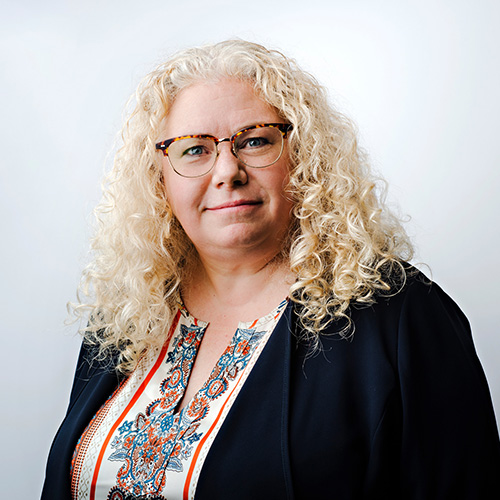 Lisa is like a combination of Leslie Knope and Ron Swanson. She practices law with unbridled enthusiasm and is rattled by nothing. As the managing partner of SBA, Lisa leads by example, proving to every team member, there's no challenge too great to be overcome with a smile. Oh, and a laugh, Lisa has a signature laugh! 
Lisa is a skilled litigator and problem solver. Clients trust Lisa because she brings a level head and a sense of calm to every situation, no matter how high the stakes. Whether it's a complex accident benefits claim, cyber dilemma, or insurance-related class action, Lisa helps her clients to "keep it simple" and execute an effective litigation strategy.
Lisa has argued some landmark accident benefits cases before the Court of Appeal. In particular, she has been on the front lines in defining the applicable limitation periods in accident benefits matters. She also successfully argued for limited court jurisdiction in dealing with accident benefits matters: see, Stegenga v. Economical, 2019 ONCA 615 (CanLII). Lisa regularly represents insurers in hotly contested "CAT" claims before the Licence Appeal Tribunal.
Lisa has a unique background in healthcare and professional services, which strengthens her ability to deal with personal injury cases as well as sensitive cyber security issues. Lisa has presented for clients and industry leaders on modern insurance issues, including cyber risks and cannabis. 
Lisa thrives in chaos. As the eldest of eight children from a blended family, Lisa knows a thing or two about leadership, diplomacy and teamwork. She manages the firm much like she did her siblings growing up: encouragement and gentle persuasion.
Primary Practice Areas
Accident Benefits
Bodily Injury
Privacy and Cyber Liability
Professional Achievements and Leadership
President, Ontario Insurance Professionals Association
Member, International Association of Defence Counsel
A Call to Action Canada-Diversity in the Legal Profession
Member, Ontario Insurance Adjusters Institute
Member, Defence Research Institute
Member, Canadian Defence Lawyers Association
Notable Matters
Yip v Economical LAT (2021)
Strickland v Economical LAT (2021)
Abadicio v Economical LAT- Reconsideration (2021)
Robertson v Echelon ONCA (2021)
Tomec v Economical, ONCA (2019)
Doon v Maharaj ONSC (2019)
Stegenga v Economical (2019), Court of Appeal
M.S. v. Economical (2018), Licence Appeal Tribunal-Reconsideration
S.S v. Economical (2018), Licence Appeal Tribunal-Reconsideration
Tomec v. Economical (2018), Divisional Court
M.S. v. Economical (2018) Licence Appeal Tribunal
S.S v. Economical (2018), Licence Appeal Tribunal
S.T. v. Economical (2018), Licence Appeal Tribunal-Reconsideration
Stegenga v Economical (2018), Superior Court
Pan v Allstate (2018), FSCO Arbitration
S.T v. Economical (2017), Licence Appeal Tribunal 
M.K. and Dumfires (2017), Licence Appeal Tribunal
Mayo v. Economical (2016), FSCO Arbitration
Karabas v. Economical (2015), Superior Court
Sietzema v. Economical (2014), Court of Appeal
Kusnierz v. Economical (2011), Court of Appeal
Lamsar v. Bajaj (2008), Superior Court
Thought Leadership
Publications
SPECT: Its Time Has Not Come, blog (December 3, 2021)
Push Back on Pre-Certification Production Requests, blog (August 19, 2019)
Court of Appeal Confirms LAT has Exclusive Jurisdiction at First Instance, blog (July 2019) 
Privacy Class Action Collapses in Absence of Commonality, blog (May 2019) 
Law Society of Ontario Exam Preparation Materials, Chapter 62, Editor (2019)
Surprise, Surprise, Surprise, blog (March 2019)
Insurance Coverage for Designated Driver Services, Lawyer's Daily, Feb 28, 2019
Long Term Disability in Ontario, CanLii Newsletter, Editor/Contributor (ongoing)
The SABS limitation period is a hard limit (October 12, 2018), blog
Subsequent payment cannot revive right that has been extinguished (September 10, 2018), Lawyer's Daily
Duty of good faith emphasized in decision (June 25, 2018), Law Times
Law Society of Upper Canada Exam Preparation Materials, Chapter 62, Editor (2018)
(Not so) Long Gone: Court of Appeal finds resigned employee entitled to LTD (May 7, 2018), blog
Choose Wisely: LTD Insurer entitled to WSIB offset despite tort election (May 4, 2018), blog
Unclaimed CPP deductible from IRB (February 2, 2018), blog
Law Society of Upper Canada Exam Preparation Materials, Chapter 62, Editor
Making CAT Denials Great Again, Co-author with Shalini Thomas
Court of Appeal finds 2015 PJI and Deductible Provision Apply Retroactively, blog
The LAT Upholds Limitation Period for Denied CAT Benefits, blog
Credibility is Vital, blog
Presentations
Cyber and Privacy for Dentists, Ottawa  June 14, 2019
Tricks of the Trade, Advocate's Society, Accident Benefit and LAT Update (2019)
The Nuts and Bolts of Uninsured, Unidentified and Underinsured Claims, Osgoode Law School Certificate in Personal Injury Program (2013)
Spring Accident Benefit Symposium, Canadian Defence Lawyers, Co-Chair
CSME-Life Care Planner's Annual Meeting- Case Law Update for Life Care Planners
Canadian Defence Lawyers AGM, Co-Chair
Ontario Mutual Insurance Association, Update on Snow Maintenance from the Court of Appeal
Professional Memberships
President, Ontario Insurance Professionals Association
Member, Canadian Association of Insurance Women
Member, Professional Liability Underwriters Society
Member, Canadian Bar Association
Member, Ontario Bar Association
A Call to Action Canada – Diversity in the Legal Profession
Bar Admissions & Education
Inclusive Leader Series – Certificate of Completion, 2018
Ontario Bar, 2003
LL.B., Osgoode Hall Law School, 2002