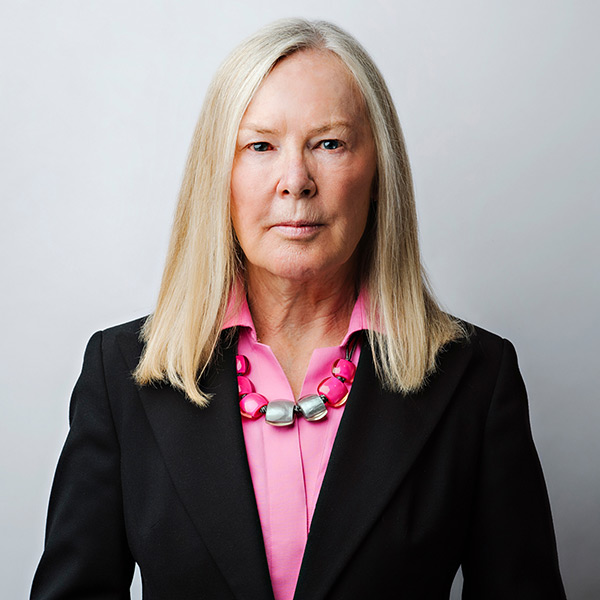 Second to none, Fiona is the B in SBA. For 16 years Fiona worked on Bay Street, where she broke barriers by being the first female partner, and then the first female Chair, in the insurance group.  Fiona brought the same values with her when she came to SBA.  
Throughout her enduring career, Fiona has been consistently energized by her clients and the relationships she has built with them. She thrives on social interaction, whether it be with her clients or with her fellow and opposing lawyers. Everyone (and we mean everyone) trusts Fiona's word because they know that she is firm but always fair. 
Fiona's clients appreciate her genuine authenticity, approachability, her proactive nature and her responsive and frequent reporting. She doesn't like to waste her client's time because she understands how valuable it is and she, too, would rather be travelling the world than following up on emails and chasing down reports. She gets it. 
When she isn't playing a tennis match, Fiona's practice focuses on the defence of occupiers' liability claims for large national clients. She litigates like she serves, with a strong offense. Rumour has it she once broke the door off a police car. Based on the fact she received a 3 minute penalty in a rec-league broom ball game, we don't doubt it.
Primary Practice Areas
Premises Liability
Product Liability
Auto Insurance
Professional Achievements and Leadership
Founding Partner, Strigberger Brown Armstrong LLP, 2018
Canadian Legal Lexpert Directory, Leading Practitioner: Litigation – Commercial Insurance (multiple years)
The Best Lawyers in Canada, Personal Injury Litigation, 2015 – 2021
Notable Matters
Rushlow v. Ball (2008), Superior Court
Fragomeni v. 1080486 Ontario Corp. (c.o.b. Ward Funeral Home Ltd.) (2006), Superior Court
Losier v. Sardinha (2006), Court of Appeal
Ohayon v. ING Wellington Insurance (2005), FSCO Arbitration
Losier v. Sardinha (2004), Superior Court
Linhart v. GWL Realty Advisors (2001), Superior Court
Lai v. Allseating (1998) Guelph Small Claims Court (Ont. G.D.)
Thought Leadership
Publications
Snow and Ice? No Notice, No Dice (December 2020)
The Latest Word on Pre-Judgement Interest (November 2019)
The Threshold: Nothing Much has Changed (November 2019)
No Reasonable Inference = No Causation (June 2019)
Put Up a Sign! (May 2019)
No Objective Injury? You Better be Credible! (March 2019)
It was Obvious! (January 2019)
The Duty to Defend: Pleadings, Pleadings, Pleadings! (August 2018)
The Importance of Inviting the Proper Guests to the Party (June 2018)
No Substance No Judgment (June 2018)
Occupiers Liability: Liability Experts Don't Always Save the Day (March 2018)
The Occupiers' Liability Act: Case Law Update (January 2018)
Don't Blame Me! (September 2017)
Deductibility of Collateral Benefits in Motor Vehicle Accident Cases, The Oatley-McLeish Guide to Motor Vehicle Accident Litigation (2012)
Presentations
Chair – Insurance Business Canada Women in Insurance Conference (2019)
Chair – Canadian Defence Lawyers Commercial & Social Host Litigation Conference (2019)
Occupier's Liability Act: Caselaw update (2018)
The Nuts and Bolts of Uninsured, Unidentified and Underinsured Claims, Osgoode Law School Certificate in Personal Injury Program (2013)
Deductibility of Collateral Benefits in Motor Vehicle Accident Cases, The 2012 Oatley-McLeish Guide to Motor Vehicle Litigation (2012)
The Impact of Delay in Personal Injury Actions, Osgoode Hall Law School, 8th Annual Update on Personal Injury Law and Practice (2012)
Quantifying Damages, Ontario Bar Association, Fundamentals of Property and Liability Program (2012)
Workplace Safety and Insurance Board Claims, Advocates' Society Tricks of the Trade Program (2011)
Mentoring: A Career Must!, 3rd Annual Women in Law Program, Canadian Women's Institute (2009)
Threshold Decisions for 2009, Miller Thomson LLP (2009)
Threshold Decisions for 2007, Miller Thomson LLP (2007)
Threshold Decisions for 2006, Miller Thomson LLP (2006)
Corporate Memberships
Board Member, North York Winter Tennis Association
President, Medico-Legal Society, 2012 to 2013
Professional Memberships
Medical Legal Society of Toronto
Member, North York Winter Tennis Association
Bar Admissions & Education
Inclusive Leader Certificate, 2018
Ontario Bar, 1999
LL.B., University of Windsor, 1997